Welcome to the home of the technology team at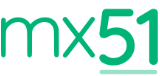 , where we publish content geared towards technical audiences!
Information about the products, features and capabilities can be found on our main website mx51.io.
The main focus of the Handbook is Product Technology. This is the technology that makes up the product that we sell as a service, for example, the software that we write that runs on our clients' payment terminals, or microservices that we use to deliver the merchant dashboard. The handbook is used by internal staff and we've decided to make it public so you can see what we do.
Resources for POS, merchant and tenant developers to integrate with mx51.
Miscellaneous thoughts on technology, industry and other topics from our team members.
Check out the blog for more posts.